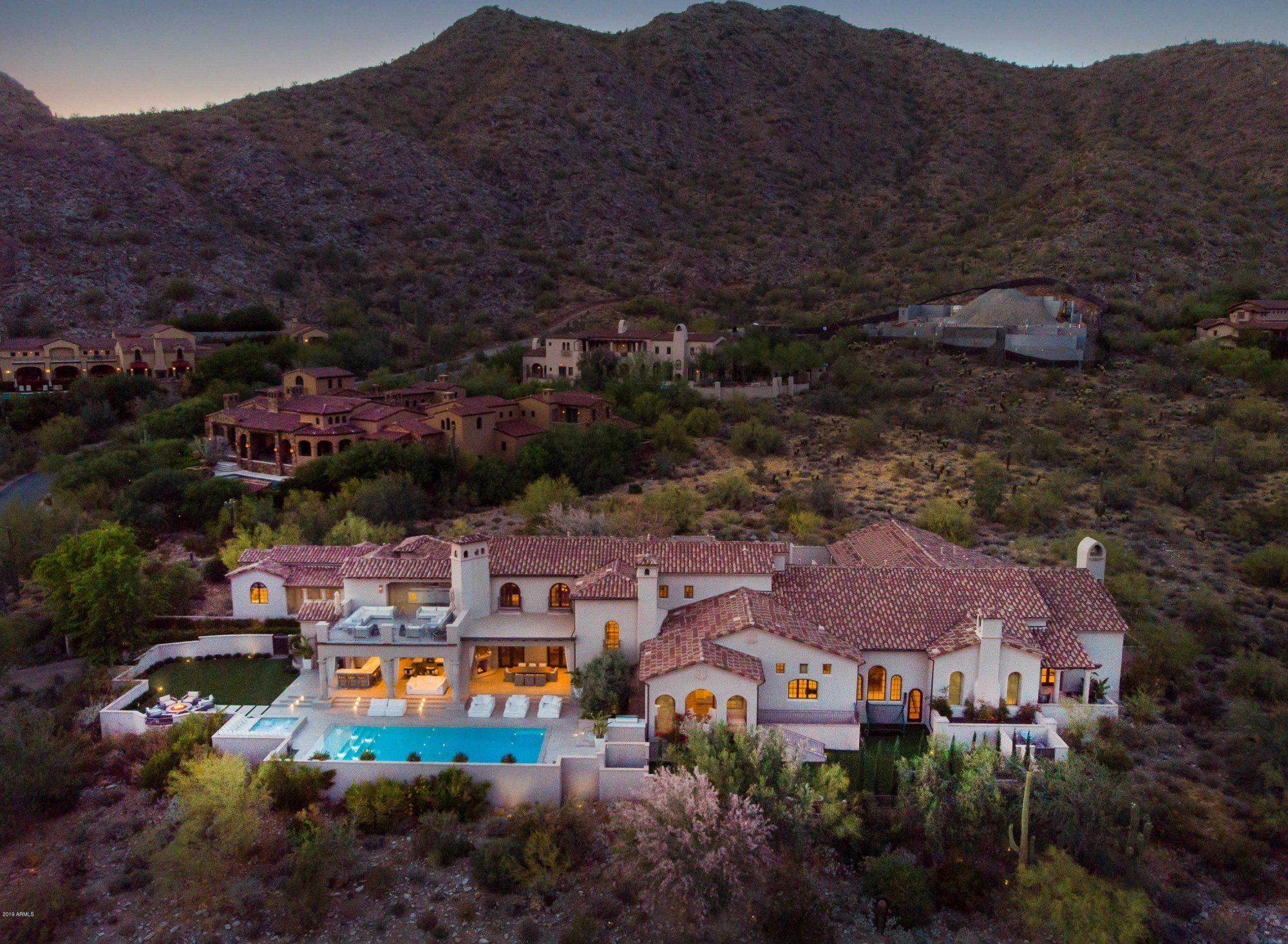 Luxury Homes For Sale In Scottsdale AZ With Mountain Views
Homes with mountain views are always high on the list of our buyers when shopping for a luxury home in Scottsdale. Some of the most exclusive communities featuring luxury real estate in Scottsdale, AZ with mountain view include Desert Mountain featuring six Jack Nicklaus Signature golf courses; Estancia, with views of Pinnacle Peak and home to the exclusive Estancia Golf Club; Silverleaf, tucked into the canyons of the McDowell Mountains and surrounded by the McDowell Sonoran Preserve featuring the Silverleaf Golf Club; and Paradise Valley located between Phoenix and Scottsdale, with dozens of golf courses within just a few miles and considered to be one of the most desirable places to live in the greater Phoenix area. Other outstanding Scottsdale communities featuring luxury homes for sale In Scottsdale AZ with mountain views include Troon North, Granite Mountain Ranch, Desert Mountain, Desert Highlands, Grayhawk, Whisper Rock, and Mirabel among others. A qualified REALTORⓇ in Scottsdale AZ can help uncover the best luxury homes with mountain views to accommodate your lifestyle and needs. Cathy Carter is a highly-rated luxury REALTOR® in Scottsdale with over 25 years of experience. Cathy is very familiar with the Scottsdale-Phoenix luxury market and would love to help you find the home of your dreams.
In addition to beautiful homes in exclusive neighborhoods, Scottsdale offers a wealth of amenities. Residents enjoy premier shopping and fine dining options, world-class resorts and spas, exciting cultural and recreation offerings, popular nightlife venues, an excellent school system, well-attended annual events such as the Barrett-Jackson Car Auction and Waste Management Phoenix Open, a plethora of outdoor activities including miles of hiking trails, and over 50 top-rated golf courses. Get started on your home search today by contacting Cathy Carter directly at (480) 459-8488 or you can get in touch by email.
---
On our easy-to-use website, you'll be able to browse the MLS for luxury homes for sale In Scottsdale AZ with mountain views. You can view photos of available luxury properties, find detailed real estate information, create a free account, save your search, and receive notifications of new listings that best match your specific home criteria - delivered directly to your email. Scroll down below to learn more about luxury real estate in Scottsdale AZ with mountain view and living in beautiful Scottsdale:
Luxury Real Estate in Scottsdale AZ with Mountain View by Price
Browse Luxury Homes For Sale In Scottsdale Az With Mountain Views
Scottsdale Homes For Sale
Click the links below to sort results by price range.
For more information about luxury homes for sale In Scottsdale AZ with mountain views, or to schedule a private showing, please contact Cathy Carter. A dedicated full-time REALTOR®, in Scottsdale AZ, Cathy stays on top of the market and is always the first to know when new luxury properties with mountain views become available (oftentimes before) - ensuring that her buyers have access to the most valuable homes and securing an offer. In July 2021, Scottsdale home prices were up 26.0% compared to last year, selling for a median price of $685K. On average, homes in Scottsdale sell after 30 days on the market compared to 52 days last year. There were 874 homes sold in July this year, down from 956 last year

Cathy begins every new client relationship with a detailed consultation to better understand the type of home and neighborhood you have in mind. She will then put together a carefully curated list of luxury homes that are the best fit based on your specific home criteria and arrange for private showings. Cathy will be able to inform you about the most exclusive neighborhoods featuring luxury real estate in Scottsdale AZ with mountain view, top builders in the region, school districts, private schools, golf courses, surrounding area amenities, local community developments, and so much more. Feel free to contact Cathy directly at (480) 459-8488 or by email.
Why Homebuyers Should Consider Living in Scottsdale, AZ

Located in Maricopa County, Arizona, the city of Scottsdale officially uses the slogan "The West's Most Western Town." Home to more than 265,249 people, Scottsdale is the 5th largest city in Arizona and the 82nd largest in the U.S. Most of the workforce of Scottsdale is in the tourism industry. The city has one of the highest numbers of AAA Five-Diamond hotels and resorts in the country and is home to many world-class spas and resorts including the Four Seasons Scottsdale and Canyon Suites. Scottsdale's exceptional climate, retail facilities, restaurants, nightlife, and top-rated golf courses attract visitors from all over.
Experience Scottsdale:
Scottsdale is loosely divided into four areas: Old Town (Downtown) Scottsdale, South Scottsdale, Central Scottsdale (Shea Corridor), and North Scottsdale:
Old Town features boutique shopping, restaurants, nightlife and is home to several galleries, the Scottsdale Museum of Contemporary Art, the Scottsdale's Museum of the West. Also located in Old Town is the upscale Scottsdale Fashion Square Mall featuring major retail anchors like Neiman Marcus, Nordstrom, Dillard's, and Barney's New York. The Shea Corridor includes some of the most desirable residential areas in the valley such as Gainey Ranch and McCormick Ranch. The master-planned community of McCormick Ranch has a history dating back over 40 years. It started as a horse ranch, known for the raising of Arabian horses.
Today, McCormick Ranch is a desirable family-friendly area with shopping centers, churches, health care facilities, and hotels. Residents enjoy several parks, multiple lakes, and picturesque views of the mountains. Gainey Ranch is another planned community in Scottsdale comprising more than 560 acres and 19 different gated neighborhoods. The area includes townhomes to large single-family homes along with several office buildings and commercial areas. The neighborhood centers around three nine-hole golf courses and a large network of trails for hiking, biking, and walking.
North Scottsdale, located just 20 minutes from Downtown Scottsdale and about 35 minutes from Phoenix, offers the best of both worlds. It straddles Scottsdale's more built-up area to the south and west, as well as its more expansive desert terrain, with McDowell Mountain Regional Park to the east and Pinnacle Peak Park to the north. The North Scottsdale neighborhood is home to several world-class golf clubs including Silverleaf and Troon, and some of the most stunning and luxurious properties you will find anywhere.
The neighborhood has something for everyone from hiking and biking opportunities offered by the mountainous terrain and lush Sonoran desert to luxury shopping, fine dining, and exciting cultural offerings. Also located in North Scottsdale is Mayo Clinic. As a leading academic medical center in the Southwest, Mayo Clinic focuses on providing specialty and surgical care in more than 65 disciplines and includes a Cancer Center, Emergency department and procedure space, and an International Patient Center.
Scottsdale Economy and Employment Opportunities
Scottsdale is known for its concentration of world-class resorts, with hotels, spas, and other tourism businesses making up a large portion of the city's economy. One of the largest employment centers in Scottsdale and also in the state is Scottsdale Airpark, anchored by the Scottsdale Airport. The Scottsdale Airpark encompasses 8.6 square miles and includes over 2,900 businesses that employ more than 51,000 people. The Airpark is headquarters to prestigious companies such as GoDaddy, AXON (Taser), JDA Software, Nautilus Insurance, Quicken Loans, CVS Caremark, and Vanguard, and home to many other great companies. The proximity of Scottsdale Airport has helped define the business environment, with one of the busiest single-runway airports in the U.S., nearly all corporate or general aviation.
Scottsdale LUXURY RESORTs and Spas
The Phoenician Luxury Resort in Scottsdale
Some of the top resorts in Scottsdale include:
Some of the best spa treatments in Scottsdale can be found at:
Scottsdale SCHOOLS AND EDUCATION
For parents with school-age children, Scottsdale is served by two nationally acclaimed school districts: Scottsdale Unified School District (SUSD) and Paradise Valley Unified School district (PVSD), both ranked among the top school districts in the country. SUSD serves the majority of Scottsdale students with 22 schools and is considered to be one of the best school districts in Arizona. The district has 16 elementary schools and three schools that offer grades K-8. There also are 6 middle school buildings and 5 high schools.
Paradise Valley Unified School District is a large public school district that provides educational opportunities for a small portion of Scottsdale. With 30 elementary schools, 7 middle schools, and 5 high schools, the district provides students with several different alternative programming options, including a S.T.E.M. program, an International Baccalaureate program, and a Digital Learning Center. Many of the charter schools in Scottsdale receive high rankings and are an option for those who are looking for an alternative to the traditional public school system.
Below are some of the best public schools in Scottsdale rated by GreatSchool.com - based on a variety of measures including academic performance and equity:
Highly-ranked private schools in Scottsdale include Bella Vista College Preparatory School, Brightmont Academy, Camelback Desert School, Fusion Academy Scottsdale, Arizona International Academy, Blessed Sacrament Preschool & Kindergarten, and Brightmont Academy.
Meeting the higher education needs of the community is the highly-acclaimed Scottsdale Community College. SCC serves approximately 10,000 students a year, offering more than 100 degrees and 60 certificates of completion in diverse occupational areas. SCC is a leader in Developmental Education, Open Education Resources, Undergraduate Research, and Service Learning, all designed to improve and facilitate student success. In 2016, SmartAsset named SCC as the 4th Best Community College in the U.S.
Scottsdale Arts and Culture
Scottsdale Center for the Performing Arts
Scottsdale is renowned for its exceptional arts and culture with the Scottsdale Center for the Performing Arts, the Scottsdale Museum of Contemporary Arts, the Musical Instrument Museum and over 100 galleries. You can also enjoy art-driven events such as the free weekly Scottsdale Art Walk, Canal Convergence, and Scottsdale Contemporary Month or take a walking tour of public art installations in Old Town. Additionally, Scottsdale is the site of Taliesin West, the Arizona home and studio of architect Frank Lloyd Wright and the winter campus for the Frank Lloyd Wright School of Architecture. The site of the Cosanti Foundation, founded by the Italian architect and builder Paolo Soleri is also in Scottsdale.
Scottsdale Nightlife
Scottsdale has one of the most vibrant and busy nightlife scenes in the West, offering plenty of places to enjoy an exciting night out. Old Town is known as the entertainment hub of the city and the place to go for nightlife with a lot of venues and clubs within blocks of each other. If you're not wearing your walking shoes, there are golf carts that can take you from one venue to another and Uber is everywhere. Don't drink and drive as Arizona is a zero-tolerance state and you will get a DUI.
One of the city's most glamorous nightclubs is The Mint Ultralounge, a 7,000 square foot space (formerly a bank) designed to evoke the Hollywood Regency style. The dance club is always crowded. AZ88 Bar & Restaurant in Old Town offers a rich ambiance with views of fountains and green spaces - a perfect place for a relaxing nightcap with friends. Rockbar Inc. bills itself as the city's top rock 'n roll destination. A club, lounge, and music venue, Rockbar Inc. features live music, rock DJs, and exclusive performances from local and national acts. If you're looking for a Latin-inspired nightlife spot, check out Paris of Scottsdale. The club has been known for its emphasis on hip hop, reggaeton, salsa, and other Latin-inspired beats.
Maya Day + Nightclub brings a touch of Vegas flash to the desert and is one of the most popular dance clubs in Scottsdale. The Beverly, formerly known as Mabel's on Main, is an Old Town Scottsdale gem full of old-school glamour and sophistication. The exposed brick walls, mahogany wood bar, and leather booths lend a warm and intimate feel. Casablanca Rooftop Lounge is a good option when you're looking for a quieter, sophisticated night in Old Town Scottsdale, offering panoramic views of both Scottsdale and Camelback Mountain from atop the lounge balcony.
Dakota is a popular Old Town Scottsdale hybrid restaurant, bar, and nightlife venue, offering casual and fun with a touch of glam. There is also a comfortable street-side patio that offers great people-watching in the heart of the entertainment district. If you are looking to enjoy a more relaxed evening, head to any of the comedy clubs in Scottsdale or nearby Phoenix. Check out the Laugh Factory Club in Scottsdale, and Rick Bronson's - House of Comedy AZ, Stand Up Live, and the Torch Theater in nearby Phoenix.
Scottsdale SHOPPING
Scottsdale boasts some of the best shopping in Arizona with more than 2,500 luxury retailers, one-of-a-kind boutiques, and upscale malls. Old Town Scottsdale is home to dozens of gift shops, Native American jewelry stores, and Scottsdale Fashion Square, the Southwest's largest shopping destination. In North Scottsdale, Kierland Commons and Scottsdale Quarter feature high-end stores in sunny outdoor settings.
Scottsdale Fashion Square Mall
Scottsdale Fashion Square is an upscale, super-regional luxury shopping mall located in the downtown area of Scottsdale. The largest shopping mall in Arizona, Scottsdale Fashion Square includes approximately 2 million square feet of retail space. Ranked in the top 25 most visited malls in the country by Travel + Leisure magazine, the mall is located on the northwest corner of Scottsdale Road and Camelback Road in Scottsdale. With more than 200 shops and restaurants – including 40 of the world's finest luxury and contemporary brands, Scottsdale Fashion Square is the place to go for luxury and upscale shopping, dining, and entertainment.
Scottsdale Restaurants & Fine Dining
From top chefs to award-winning cuisine, Scottsdale benefits from entrepreneurism in its restaurant scene with more than 790 restaurants in the city. The "Top 10 Restaurants for 2021" below earned the highest food ratings in Phoenix/Scottsdale from Gayot.com (The Guide for The Good Life):
Other great restaurants in Scottsdale definitely worth mentioning include Dominick's Steakhouse, Orange Sky (Talking Stick), Mastro's Ocean Club, Mastro's Steakhouse, Ocean 44, Atlas Bistro, Talavera, and FnB Restaurant, Bourbon Steak, Ocean Prime, just to name a few.
Scottsdale EVENTS
Scottsdale is a hotbed of activity with numerous popular events that take place throughout the year, including:
Scottsdale OUTDOOR RECREATION
Kids and adults both benefit from Scottsdale's Sports Complex and an award-winning parks and recreation department that offers golf courses, 45 miles of paved paths for walkers and cyclists, and another 115 miles of non-motorized trails. The City of Scottsdale's two senior centers, the Granite Reef and Via Linda Senior Centers, offer a variety of programs, recreational classes, special events, support services, and other opportunities, all geared toward senior adults.
Scottsdale has a total of 103 great hiking, running, and mountain biking trails. McDowell Sonoran Preserve located in North Scottsdale offers many trailheads with a variety of trails for both beginners and experts. Gateway Trail and Sunrise Peak are among some of the local favorites. Peak hiking season begins in late October and can run through winter into spring. Camelback Mountain is another popular hiking destination, located in the Echo Canyon Recreation Area between the Arcadia neighborhood of Phoenix and Paradise Valley.
Camelback offers some of the best urban hiking in the U.S. and attracts over 300,000 hikers every year. Some of the best trails can be found around Lost Dutchman State Park or Desert Foothills Park. You'll also find some great local park options like Echo Canyon Recreation Area or Phoenix Mountain Preserve. There are 59 moderate trails in Scottsdale ranging from 1.9 to 52.2 miles and from 1,686 to 5,209 feet above sea level.
Camelback Mountian Via Echo Canyon
Some of the best trails in the Scottsdale area:
#1. Camelback Mountain via Echo Canyon Trail is a 2.5 mile heavily trafficked out-and-back trail and is rated as difficult. The trail offers several activity options and is accessible year-round.
#2. Pinnacle Peak Trail is a 4-mile heavily trafficked out-and-back trail and is rated as moderate. The trail offers several activity options and is accessible year-round.
#3. Gateway Loop Trail is a 4.2-mile heavily trafficked loop trail and is rated as moderate. The trail is primarily used for hiking and mountain biking and is accessible year-round. Dogs are also able to use this trail but must be kept on a leash.
#4. Blue Wash Trail is a 2.8-mile heavily trafficked out-and-back trail that features a waterfall and is rated as moderate. The trail is primarily used for hiking and horses. Dogs are also able to use this trail but must be kept on a leash.
#5. Lost Dog Wash Trail to Ringtail Trail Loop is a 4.4-mile heavily trafficked loop trail that features beautiful wildflowers and is rated as moderate. The trail offers several activity options and is accessible year-round. Dogs are also able to use this trail but must be kept on a leash.
#6. Inspiration Point is a 5.7-mile out-and-back trail that offers scenic views and is rated as moderate. The trail is primarily used for hiking and running. Dogs are also able to use this trail but must be kept on a leash.
Scottsdale Top-rated Golf Courses
Troon North Golf Club
Scottsdale is known as "The World's Finest Golf Destination," and it's easy to see why when you consider the city's roster of luxury resorts, 330 days of annual sunshine, and high-caliber courses like TPC Scottsdale, Troon North, We-Ko-Pa, and Grayhawk. Scottsdale has over 50 golf courses, with more than 200 golf courses in the Scottsdale-Phoenix area combined. Some of the best golf clubs in Scottsdale include:
PHOENIX-SCOTTSDALE PROFESSIONAL SPORTS
For sports fans, Phoenix is home to 4 Major League sports teams plus a professional WNBA team. The Arizona Diamondbacks (MLB) play their home games at Chase Field. The Phoenix Suns play in the NBA's Pacific Division and play their games at Talking Stick Resort Arena. The Arizona Cardinals are a professional football team (NFL) based in Phoenix and play at State Farm Stadium and the Arizona Coyotes are a professional hockey league team based in Glendale. The Phoenix Mercury is a professional women's basketball team (WNBA) based in Phoenix and also plays at Talking Stick Resort Arena. Baseball fans can also enjoy Cactus League spring training baseball in the Phoenix area. With 10 facilities hosting 15 teams, the Phoenix area has the greatest concentration of professional baseball facilities found anywhere in the U.S.
Scottsdale Transportation
Free Trolly System in Scottsdale
Scottsdale's free trolley system connects with the Valley Metro's transit system, providing easy access to the greater Phoenix metro area. Scottsdale has four free trolley routes to help you get around town.
Scottsdale Municipal Airport is a single-runway airport located in North Scottsdale used primarily for corporate and transient aviation traffic and is one of the busiest single-runway airports in the country. The closest major airport serving Scottsdale is Phoenix Sky Harbor International Airport, located about 14 miles from the center of town.
Scottsdale, Arizona FAQs
What is Scottsdale known for?
Scottsdale is internationally known for fine resorts and spas, exceptional restaurants, superior shopping, art galleries, designer golf courses, upscale nightclubs, and country club living.
Is it expensive to live in Scottsdale?
Scottsdale's housing expenses are 44% higher than the national average and the utility prices are 8% lower than the national average. Transportation expenses like bus fares and gas prices are 2% higher than the national average. Scottsdale has grocery prices that are 5% higher than the national average.
What is the nicest area of Scottsdale?
North Scottsdale is an ideal area for those who want the finer things in life. It's as good a place for those on their way up as well as for those who've already made it, with some impressive neighborhoods that really stand out. ... If you're looking for the best neighborhoods in the Scottsdale area, you'll find them here.
What food is Arizona famous for?
Arizona's only official state food is its state fish, the Apache trout. However, the state does have some unofficial state foods, in particular the chimichanga. Chimichangas, otherwise known as deep-fried burritos, are an Arizona favorite that reflects the state's Mexican-American culture.
Does it get cold in Scottsdale AZ?
The cool season is from November 20 to February 27, with an average daily high temperature below 73°F. The coldest day of the year is December 28, with an average low of 44°F and a high of 65°F. Scottsdale can get cool at night, but by most American standards, it would never be called cold.
How close is Sedona to Scottsdale?
2 hr 1 min (124.6 mi) via I-17 S
How far is Scottsdale from Phoenix?
23 min (13.0 mi) via AZ-202/AZ-202Loop E
What drink is Arizona known for?
Lemonade is officially Arizona's state drink
Which airport do you fly into for Scottsdale AZ? The closest airport to Scottsdale is Phoenix Sky Harbor International Airport (5.8 mi). Another nearby airport is Phoenix Phoenix-Mesa Gateway (19.71 mi)
Partner with top-rated REALTOR®in Scottsdale - Cathy Carter
Whether you are interested in luxury real estate in Scottsdale AZ with mountain view or it's time to list your current property, Cathy Carter provides the kind of knowledge, skills, commitment, and personalized service you deserve. Known for her warm and friendly personality, Cathy's personal approach to the real estate process allows her to connect with her clients and uncover the right homes for them. Cathy is very down-to-earth and someone you can trust and feel good about working with. Her clients appreciate her honesty and transparency and feel it helps them as they make important real estate decisions.
As your real estate agent, Cathy will protect your best interests, advocate for you, negotiate on your behalf, and do whatever is needed to ensure a successful homebuying experience. To find out more about luxury homes for sale in Scottsdale AZ with mountain views, please give Cathy Carter a call today at (480) 459-8488 or get in touch here.
RE/MAX Cathy Carter Real Estate & Luxury Homes
Professional REALTOR®
ABR, CRS, CDPE
RE/MAX Alliance Group
725 W. Elliot Rd., Suite 111
Gilbert, AZ. 85233
Email or Call: 480‑459‑8488
Toll-Free: 800-519-5578


CATHY CARTER
SEARCH FOR YOUR DREAM HOME TODAY!! CLICK HERE
LEAVE A REPLY ON FACEBOOK
480-459-8488 DIRECT
Posted by Cathy Carter on
Tags